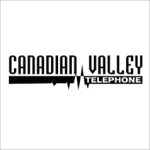 TO ALL CUSTOMERS OF CANADIAN VALLEY TELEPHONE COMPANY TELECOMUNICATIONS SERVICES
Canadian Valley Telephone Company is the eligible Tribal Lands Carrier for its' service area for Universal Services.
Canadian Valley Telephone Company provides single party residences and businesses with (unlimited local usage) for:
$21.75 residential & $16.00 business.  This includes access to:
•  Single-party touch-tone service or its functional equivalent
•  Voice grade access to the public switched network
•  Emergency services
•  Access to operator services
•  Telecommunications Relay Services
•  Toll limitation for qualifying low-income consumers
Use of these services may result in added charges.
In addition, Canadian Valley Telephone provides one copy of its' annual local directory without charge.
HOW TO APPLY FOR TELEPHONE SERVICE?
If you do not have telephone service and wish to obtain telephone service; and you are in the Canadian Valley Telephone Company's service areas, please call our business office at:  918-334-3700
…………………………………………………………………………………………………….
LifeLine/LinkUp Service
You might be able to receive free local phone (government taxes and surcharges apply) or discounted local phone and high speed internet bundled if you qualify for certain programs.
HOW DO TELEPHONE CUSTOMERS AND APPLICANTS FOR TELEPHONE SERVICE APPLY FOR THE LIFELINE AND LINK-UP PROGRAM?
Customers may request self-enrollment forms from the business office.
For additional information about Lifeline/Link-up service, call our business office at:   918-334-3700.  We will be glad to assist you.
Do-Not-Call Registry
OKLAHOMA'S DON'T CALL ENFORCEMENT:  This Consumer Registry lists the telephone numbers of Oklahomans who don't want unsolicited telemarketing calls and have properly registered with the Oklahoma Attorney General.  The Act prohibits telemarketers from contacting Oklahomans on the list, with some exceptions that were written into law.  Registering should reduce the number of telemarketing calls you receive.  You are able to register by calling:  405-521-3921 or online at the Attorney General's website:  http://oag.ok.gov at no cost to you.  The registration will remain in effect until you remove it or discontinue service.  The list is updated on a quarterly basis.
NATIONAL DO NOT CALL REGISTRY:  This registry is nationwide in scope, applies to all telemarketers (with the exception of Commission (FTC), of certain non-profit organizations), and covers both interstate and intrastate telemarketing calls.  Commercial telemarketers are not allowed to call you if your number is on the Do Not Call Registry, subject to certain exceptions.  As a result, consumers can, if they choose, reduce the number of unwanted calls to their homes.  Telephone solicitation calls to your home before 8 am or after 9 pm are prohibited.  Anyone making a telephone solicitation call to your home must provide his/her name, the name of the entity on whose behalf the call is being made, and a telephone number or address at which you can contact the entity.  Company-specific do-not-call lists are available to consumers who wish to avoid telemarketing calls only from specific companies.  For more information go to http://www.fcc.gov/cgb/consumerfacts/tcpa.html  You can register your phone numbers for free, and they will remain on the list until you remove them or discontinue service – there is no need to re-register numbers.  The Do-Not-Call registry does not prevent all unwanted calls.  It does not cover the following:
Calls from organizations with whom you have established a business relationship
Calls for which you have given prior written permission
Calls which are not commercial or do not include unsolicited advertisements
Calls by or on behalf of tax-exempt non-profit organizations.
How to register:  Subscribers may register their residential telephone number, including wireless numbers, on the National Do-Not-Call Registry by telephone or by internet at no cost.  To register online:  www.donotcall.gov  To register by telephone:  1-888-382-1222 for hearing impaired:  1-866-290-4236.  YOU MUST CALL FROM THE PHONE YOU ARE REGISTERING.